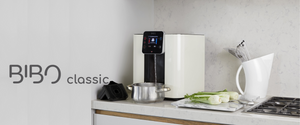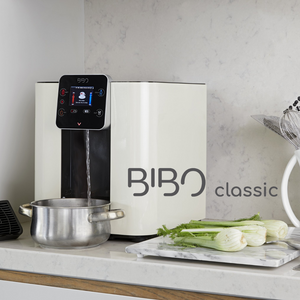 for home
You and your family will drink more water, as it's easy, fun, dispenses at your pre-set temperature of choice and is perfectly safe for children.
Fill teapots, water jugs, coffee machines, water bottles for water on the go, and even cooking pots.
for office
A simple means of increasing water intake and wellbeing, the results are happier, healthier employees with increased morale and productivity.
Bottle your own water at your office and avoid paying extra for water deliveries.
for baby
Prepare your baby's bottle in seconds with filtered and purified water. Simply press a button to fill baby's bottle at the ideal temperature and quantity. BIBO is the perfect solution for both for you and your baby.
features include:
• Intuitive touch panel interface
• Instant chilled water – as low as 4˚C up to 16˚C
• Instant hot water – as high as 98˚C
• Instant ambient water – from 30˚C to 60˚C
• Multi-stage filtration system – carbon block filter and UV lamp purification
• Energy saving modes – power on/off and sleep mode
• Removable drip tray – this means you can easily fill teapots, saucepans, jugs and sports bottles!
• Programmable dispense volume settings which is great if you always use the same sized glass, mug or bottles
• Dimensions are 36cm height x 38cm depth x 30cm width
yearly filter pack
The BIBO classic uses a multi-stage filtration system consisting of an activated carbon block filter and a powerful UV lamp, leaving your water tasting pure and delicious.
The filter removes impurities and contaminants including chlorine, heavy metals, lead and cysts such as cryptosporidium and giardia. Only beneficial minerals such as calcium, magnesium and potassium remain.
The UV lamp destroys potential water pathogens including bacteria, algae, viruses and mold, leaving microbiologically pure and 100% safe drinking water. This is a great benefit with the use of water tanks in the region.
To continue enjoying premium water quality from your BIBO water bar, it is recommended to replace the maxi carbon filter every 6 months, and the ultraviolet lamp annually. For complete peace of mind, the BIBO touchscreen display will indicate when your filters are due for replacement.
eco friendly and efficient
The BIBO classic will reduce exposure to plastics, plastic waste, and CO2 omissions with less water delivery trucks on the road.
The BIBO is super energy efficient with energy saving on/off and sleep modes. It's more energy efficient than boiling a kettle many times a day or refrigerating water bottles and the insulation system ensures it uses minimum energy to maintain temperatures.
Best of all, used filters can be recycled with plastics and used UV lamps with glass.
installation
No need to refill your BIBO classic as it simply plumbs into your mains water supply. The BIBO classic does not reqiure waste, making it very versatile on where it can be positioned.
Our experienced technicians are able to basically install your BIBO anywhere. All we require is that there is some type of water source somewhere in the vicinity.
We drill through granite, marble, quartz and other similar surfaces with ease. We use specialized diamond drill bits, water guides and lots of experience. Leave it to us to make it work and look great.
It is also possible to install the BIBO classic yourself with our detail installation instructions.
BIBO operates in many countries and the BIBO classic proudly carries the following certifications which provides ease of mind:
Australian WaterMark Compliance
Emirates conformity Assessment Scheme (ECAS)